Winmail.dat files (also known as TNEF attachments) are special types of email attachment files sent by Microsoft servers. This article explains shortly how to open a winmail.dat file sent by email to you.
How to decode a winmail.dat file online
Hopefully, you don't need to install any application to convert a winmail.dat file. You can do it online directly from your browser. Just follow the below steps:
Time needed: 1 minute
Opening a winmail.dat file online
Save the winmail.dat attachment to your device

For most of the e-mail clients, you just need to click/tap on the winmail.dat attachment file and select "Save attachment". If you have difficulties or don't file this option, check how to save an attachment on web email clients, iPhone and iPad, or Outlook.

Open the Winmail.dat Reader website

In your web browser, type www.winmail-dat.com in the address bar and press Enter (or simply click on the link)

Open the winmail.dat file

Click on "Choose file" and select the file that you just saved in step 1


Decode the winmail.dat file

Press the Decode button to decode the winmail.dat file.
Interpreting the results
A winmail.dat file (or TNEF Attachment) includes not only the e-mail attachments but may also contain other email contents like the subject and body. When decoding a file through the online Winmail.dat Reader you will see the results in two blocks: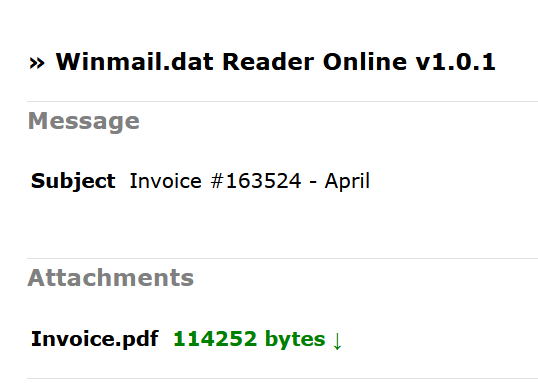 The Message block contains the important information the decoder parsed from the winmail.dat attachment, which might include the email subject and message body.
The Attachments block contains a list of all attachments successfully read from the file. You can download the decoded attachment by clicking/tapping on it. Sometimes the parser might not be able to decode one or another attachment. In this case, you see a "(empty)" in the place of the attachment size.
How to open a winmail.dat file